"Super Nancy"
is the second segment of the twenty-fifth episode of
Fancy Nancy
, also featuring the first season finale.
Summary
When Nancy imitates a fancy superhero, she winds up discovering she has a superpower of her own: courage.
Plot
Nancy goes to Lionel's treehouse and being scared when she notices that Lionel's dad broke the ladder, and she has to go up with a knotted rope instead; with Bree and Lionel's help, she climbs the rope. Finally up, she discovers they were sorting through a comic book collection, and she thinks it is "not very classy".
Everything changes when she finds a comic book about a superhero named Dazzle Girl, Nancy being amazed and wants to be like her, so, she wears a Dazzle Girl costume along with the dazzling ring that she uses in the comics.
She helps the neighbors and makes some good actions, but her biggest challenge appears when she has to rescue JoJo from Lionel's treehouse, and for it, Nancy has to climb the knotted rope without help. Jojo had gone up to pretend to be a person-in-danger and get Nancy's help, but she became in a real one when she had to go down.
Nancy confronts her fears and climbs the rope of herself, but she cannot go down, so, Nancy uses her dazzling ring, and Lionel finally notices they are stuck in his treehouse and he asks his mom to call Claire, giving a finale to this episode and season.
Characters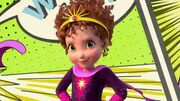 In order of appearance:
Main Characters:
Support Characters:
Objects
Locations
Songs
Trivia

Community content is available under
CC-BY-SA
unless otherwise noted.