Jurassic World: Dominion Dominates Fandom Wikis - The Loop
Play Sound
Season One of Fancy Nancy aired between July 13, 2018 and August 9, 2019, counting with 48 segments and 1 special divided into 25 half-hour episodes.
On iTunes and Amazon, Disney divided it into two volumes, counting with 13 and 12 half-hour episodes, respectively. Disney also released a DVD with the first 6 half-hour episodes called "Fancy Nancy: Volume 1".
Also, this season has been available on Disney+ since its launch date in the United States.
Episodes
Volumes
Volume 1 (Digital):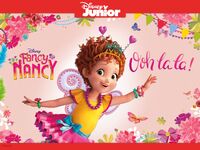 Meet Fancy Nancy! Six-year-old Nancy is a lovable young girl who likes to be fancy in everything. From her advanced vocabulary to her creative, elaborate attire, she transforms the ordinary into the extraordinary! Excited to experience what the magnificent world has to offer, Nancy uses her ingenuity and imagination as she learns that while life doesn't always go as planned, it's important to celebrate the differences that make everyone unique.
Volume 1 (DVD):
Grab some glitter, add a dash of "ooh la la," sprinkle in original songs and...Voila! Get set to pour on the fun with FANCY NANCY. With her love of all things fabulous, fancy and French, this little lady can change bland into chic. All it takes is boundless imagination, help from friends and family, and a sunny point of view that celebrates the differences that make everyone unique and magnifique!.
Volume 2:
Fancy Nancy returns with more magnifique (that's French for "magnificent") episodes! In order to become a synchronized swimmer, Nancy must face her fear of going underwater. Then, Nancy thinks she hears her parents plotting to give away the family dog! Nancy struggles to accept Bree's un-fancy interest in bugs, partners with Grandpa for a dancing competition and battles a case of writer's block! And when Nancy struggles to make Santa's "Nice List", she learns the true meaning of Christmas. Ooh la la!
Season One (Disney Plus):
Follow Fancy Nancy on her adventures with family and friends as she finds the extraordinary in the ordinary, and with a little imagination, transforms the plain into the exquisite!
External Links