We're Getting Mutants in the MCU - The Loop
Play Sound
Let's Break a Deal! is the second segment of the twenty-fourth episode of Fancy Nancy.
Summary
Nancy regrets trading a piece of jewelry with JoJo and tries to trade back.
Plot
Nancy is excited because she will go to the butterfly pavilion at the Natural History Museum. She needs a sketch pad to draw the butterflies but unfortunately, her sketch pad is full. So, she offers to JoJo some stuff she has in exchange for her sketch pad. Jojo only is interested in two butterflies bracelets that seem like a pirate treasure, so they do the trade.
These bracelets didn't fit Nancy, but when she finds out that they can become a necklace, she does everything to trade back. She cannot get it in the right way and ends stealing the necklace. When JoJo notices that the necklace is not in the place where she left it, she goes with her parents to search it, and all goes to ask Nancy if she has seen the necklace.
Nancy tells them what happened, and that she regrets her actions, returning the necklace to JoJo, and apologizing with her. At the finale, JoJo agrees to lend her the necklace, with the condition that she will have to draw her some butterflies at the museum.
Characters
In order of appearance:
Main Characters:
Supporting Characters:
Mr. Monkey (Nancy's imagination)
The Butterflies (Nancy's imagination; six talking butterflies)
Bree James (Nancy's imagination; no lines)
Objects
Butterflies Bracelets (first appearance)
JoJo's Pirate Ship
Locations
Cast
Songs
Trivia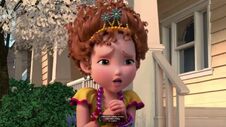 During all this episode (except during Nancy's judgment), Nancy wears a broken tiara with two flowers instead of its usual three.
The JoJo's pirate ship reappears after being given to her during last Christmas ("Nancy and the Nice List").
When Doug arrives home, in the background Frenchy appears suddenly, a little animation error.
By the first time, Nancy imagines Marabelle and Mr. Monkey with real movements, the first talking animals in the series (The Butterflies) and also the first 3D animated background featured in her imagination (Clancys' kitchen/living room).
Though this episode features six talking butterflies, their voice actor isn't at the ending credits.
v

•

e

Episodes

Season One

Chez Nancy • School de Fancy • Tea Party Trouble • Bonjour Butterfly • Nancy's Ooh La La Spa • Nancy Goes to Work • Nancy Versus Dudley • Nancy Makes Her Mark • Nancy's Devine Sleepover • Nancy's Sacré Bleu Fondue • Nancy's Dog Show Disaster • The Case of The Disappearing Doll • La Danse of Friendship • Shoe La La! • Camp Fancy • Nancy's Vanity D'Art • Toodle-oo, Miss Moo • Nancy Clancy, Starmaker • Le Café Parfait • Mademoiselle Mom • Nancy's Costume Clash • Nancy's Ghostly Halloween • Grow Up, Jo Jo! • Nancy's Supréme Night Out • Ice Skater Extraordinaire • Nancy L'Artiste • Vive La Révolution! • Million Dollar Minnow • Au Revoir, Jean-Claude • Je Spy With My Little Eye • Nancy and the Nice List • What's Bugging Nancy? • Nancy Clancy, Pet Psychic! • Nancy, La Poéte • Mon Amie... Grace? • The Amazing Adventures of Grammy and Poppy • Un, Deux, Cha Cha Cha! • The Imaginary Invalide • Nancy Hops to It! • Nancy's Friendship Faux Pas • Nancy's Parcel Purrrsuit • Easter Bonnet Bug-A-Boo • The Great Easter Bunny Stakeout • In the Know With Nancy • Nancy's Parfait Pony • Nancy's BFF Babysitter • Let's Break a Deal! • Arts and Crafty • Super Nancy

Season Two

The Return of Dudley • Nancy Quits the Clancy's • Nancy's Parfait Birthday • Nancy Finds a Rainbow • Paris, Adieu! • Nancy's Fancy Heirloom • Roses Are Red, JoJo Is Blue • Love, Lionel • Nancy and the Mermaid Ballet • Operation: Fix Marabelle! • Bon Voyage, Nancy! • Nancy's New Friend • Frenchy, Mon Amour • Nancy's Favorite Grandpa • Nancy Takes The Case • The Dynamic Deux • The Whisper Heard Round The World • Nancy Braves the Storm • Nancy Rocks the Boat • Spring Dress Mess • The Astonishing Jonathan • Nancy Starts A Business • Trois Cheers for Mrs. Devine • Escar-No! • Tea for Three • Nancy and Bree Take a Vacation • Bree's House Rules • A Thousand Times Non! • Le Boy Next Door • Nancy's Looth Tooth • Attention, S'il Vous Plaît! • Copy Cat JoJo • Who's the Boss • Little Miss Lettuce • Battle for the Cul-de-Sac • Sally Merry Clancy • New Year's Nancy • Nancy's Gift to Grandpa • Goodbye, Dolly! • Nancy's Soccer Encore • Leaders of Le Pack • JoJo and the Unicorn • Pajama Drama • Chirp Trouble • Classical Nancy • Nancy's Twin Advice • Nancy Runs Her Own Race • JoJo Does the Dirty Work • The Momover • Nancy's To-Do List

Season Three

Nancy the Auteur • Frenchy Takes the Stand • Tears of a Superhero • Crochet it Isn't So! • Nancy Plays House • Nancy's Fancy Library • Smitten by a Kitten • The Best Baby Sitter Du Monde • Big Top Nancy • Nancy's Sweet Dreams • Joie De Jonathan • Vegetables for Paris • Nancy's Mermaid Tale • Dazzle Girl's Double • Dancy Nancy • The Price of Being Nice • Nancy's Good Old New Times • Lionel Speaks Up • What's Bree's Story? • The Buzz on Oak Street • Grace Gets Real •

Nancy's Dream Come True

• Nancy's Flight to Paris • Paris At Last!

Shorts

Fancy It Yourself • Fancy Nancy Shorts - Season Two