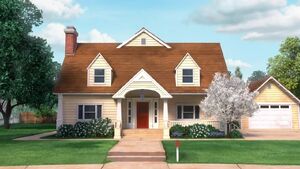 The Clancys' House is where Nancy and her family lives and is the location most used on the series.
Rooms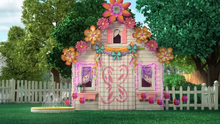 Nancy's Playhouse/School de Fancy
This locale is where Nancy and her friends enter to play, eat, and learn to be fancy. Built by Doug; Nancy's father, and Grandpa, the playhouse was simple, to Nancy, a "disaster!" So, JoJo, Bree and Freddy helped her to make it fancy, to avoid being turned into a joke for Grace.
First floor (kitchen, dining and living room)
This floor contains the kitchen, the living room, and the dining room, with stairs to go up to the second floor. There is where Nancy comes to paint, craft, play, watch TV and interact with her family and friends.
Second floor (bedrooms, bathroom, and library)
It is a hall that connects with the Clancys' bedrooms, and the bathroom that Nancy used to make the "Ooh La La Spa" on Mother's Day. It also contains a library and a closet; the library seems like a study place because it has a board and a little table, but they also use it to play, craft and draw as seen in "Nancy and the Nice List" when Nancy crafts a Christmas ornament in there.